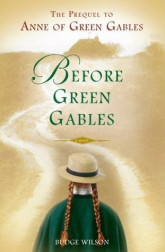 Before Green Gables
The Prequel to Anne of Green Gables

written by Budge Wilson

390 pages
published in 2008
As soon as I heard about this book, I was immediately intrigued about the idea that a prequel had actually been written to the
Anne of Green Gables
series. And I was not let down. It took Anne Shirley
eleven long years
to arrive at her final destination… and now it's fantastic to have an idea of how those eleven years were spent.
The story begins
before Anne is even born
, so you will get to know her parents first, and discover where she came from. You'll be taken through the entire journey Anne experiences… through all her difficult work, her playful dreams that leave a smile on your face, and through both the dazzling and the tough times of her young childhood. Most of all, you'll meet the people that improved Anne's life by inspiring her, and also the ones who left negative emotional scars... thus
mixing together the combination
that creates the red-headed girl that we cherish.
In reading this book, you'll discover what one writer's thoughts of who Anne Shirley was before she arrived at Green Gables. I think Budge Wilson did a
superb
job in writing a sound & wholesome story. She included many details that linked to the
Anne of Green Gables
books. Alert readers will catch on, and have appreciation for what those fine points mean. Of course, the deeply descriptive style of the original L.M. Montgomery has been neglected, but for the sake of the book, it was well worth it. Anne's spunky, hopeful, dramatic, and in-the-depths-of-despair character is still there.
I would recommend this book to any other readers who have a substantial understanding of Anne's charming ways. I have to say that you cannot fully enjoy this story
unless you know who the real Anne Shirley is
.
Note:
There is some extra women's gossiping in the book (I didn't really think that this had to be included in the story). Also, the men sometimes have been drinking and do not treat their families well. Please keep in mind this is an adult book, and cannot be compared to the age range that the true
Anne of Green Gables
books might entertain.
Now, to leave you with a quote from the book!
"But sometime I hope I get a chance to be young before I get too old to enjoy it."
~ quote by Anne Shirley, in
Before Green Gables